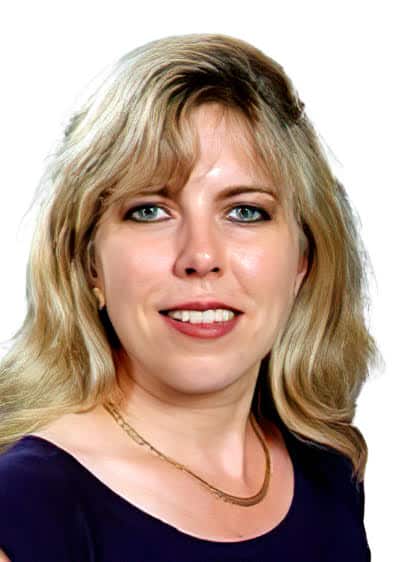 First Class Realty Service since 1998
After a successful career at Tower Air International, where Sabrina enjoyed exposure and interactions with a diverse customer base, she perfected her talent for personalized customer service. Since 1998, an essential part of Sabrina's commitment has been to provide honest, detail-oriented advice to promote your best [...]
First Class Realty Service since 1998
After a successful career at Tower Air International, where Sabrina enjoyed exposure and interactions with a diverse customer base, she perfected her talent for personalized customer service. Since 1998, an essential part of Sabrina's commitment has been to provide honest, detail-oriented advice to promote your best interests.
As a homeowner in Stamford's Mid-Ridges area, as well as an investment property owner, Sabrina provides unmatched knowledge of the ever-changing real estate market and will guide you through every step of the home buying and selling process. While serving as President of the Woodside Green Condo Association since 2014, Sabrina has honed her strong business acumen skills to advocate for your best interests throughout the purchase and sale process.
Whether you are looking to buy, sell, rent or relocate, Sabrina will advise you on the best strategy based on her extensive experience.
Professional Specialties:
Home sellers and buyers
Investment purchases
Corporate relocation sellers and buyers
Professional Association:
Stamford Board of Realtors since 1998
SmartMLS
National Association of Realtors since 1998
Professional Background:
1998-present Realtor throughout CT
1995-1998 Inflight Manager, Tower Air Int'l
1990-1995 Flight Attendant, Tower Air Int'l
Client Testimonials:
MONICA & MITCHUM A. | STAMFORD, CT
Sabrina has been such an integral part of my home selling process! She was fantastic during the whole sale. She knows and understands the market and was there to reassure us the whole step of the way. 5 star service all the way. June 24, 2022
CAROLE T. | STAMFORD, CT
Sabrina has always been very helpful, especially to an out of town owner. She goes well beyond the call of duty. I have worked with her on my rental for over a decade. February 25, 2022
SCOTT H. | STAMFORD, CT
Sabrina could not be more amicable or professional. She knows the real estate market well and all the nuance details involved in the process of selling from start to finish. She is timely with her appointments and follows up with any questions along the way. A true professional from initial meeting to closing. October 25, 2021
BRENDA J. | STAMFORD, CT
I've worked with Sabrina for years and she is excellent. She is proactive and promptly communicates any issues concerning my unit. I have recommended Sabrina to a coworker in the past. July 01, 2021
LISA R. | HAMDEN, CT
Sabrina is highly knowledgeable and responsive. She handled sticky situations diplomatically and made what could be a stressful process even easier. Highly recommended! June 18, 2021
CAROLE T. | STAMFORD, CT
Very professional, goes beyond to help clients. Out of state owner that relies on Sabrina for her expertise on the market, contractors and recommendations. Have used her for more than a decade on rental property. February 24, 2021
MONICA A. | STAMFORD, CT
Sabrina is an amazing realtor with such great knowledge of the market and great care of your property. She is the best! February 18, 2021
ROGER H. W. | REDDING, CT
Sabrina is a real pro at her job. November 19, 2020
ESTELLE H. | STAMFORD, CT
Sabrina was great to work with. She was an excellent resource and went above and beyond to help, as I was selling the condo from out-of-state. She gets things done and our unit sold within 8 days. August 28, 2020
MICHELE L. | SHELTON, CT
Sabrina was very knowledgeable and paid close attention to details. She knew what I wanted and we found it. July 17, 2020
BRENDA J. | STAMFORD, CT
Sabrina is excellent. She keeps me informed and is proactive. June 19, 2020
YANG S. | STAMFORD, CT
Excellent service. Intelligent advice. Finds renters fast, ahead of other agents. April 29, 2020
MARCO & LORNA DAVIE M. | STAMFORD, CT
She is very thorough and hard working. We trust her intuition and expertise when helping us with our property. August 22, 2019
CURTIS W. | REDDING, CT
Wonderful, professional, and knowledgeable. We felt that Sabrina had our best interest in mind at all times. She was honest and transparent. July 12, 2019
PATRICIA O. | STAMFORD, CT
Absolutely recommend Sabrina. She's competent, and a genuinely nice person. February 28, 2019
CAROLE T. | STAMFORD, CT
I have worked with Sabrina for years, she is professional, extremely knowledgeable and trustworthy. September 26, 2018
G. B. | STAMFORD, CT
Sabrina is incredibly responsive, 24/7 and is 100% trustworthy. July 11, 2018
MAHMOUD MIKE V. | STAMFORD, CT
They Are Good At What They Do. Sabrina Has Been At This A Very Long Time And Has The Local Knowledge Of The Real Estate Market. Nice To Work With. March 13, 2018
SARAH B. | STAMFORD, CT
Sabrina is professional, has a terrific knowledge of the market and is an honest and sincere person. She puts the client before the commission. Be proud to have her with your company! January 04, 2018
CYNTHIA H. | STAMFORD, CT
Very professional. Got me through the whole process from initial inquiry to after closing on my sale. Dealt well with my anxieties. Offered helpful suggestions at every juncture. Went above and beyond the call. Pet friendly, too. I would highly recommend Sabrina. Thank you for asking. December 31, 2017
ANN H. | STAMFORD, CT
Sabrina is very knowledgeable and a true professional. She is also responsive and a joy to work with. July 03, 2017
We have used her in the past. She is an excellent partner. Sabrina got us everything we wanted. Will certainly use again. September 22, 2016
Monica F. | STAMFORD, CT Sabrina was referred to me many years ago by a friend of mine. May 23, 2016
Office Location
60 Long Ridge Rd, Suite 404
Stamford, CT 06902
Contact Info
Specifications
Languages:
Specialties:
Service Area: Darien CT, New Canaan CT, Norwalk CT, Stamford CT, Wilton CT